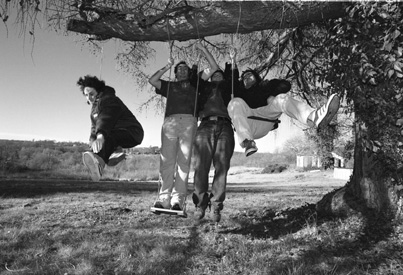 Seven Hate were a skatepunk band from Poitiers, France, and I know there music can be found on blogs elsewhere, But I figured I would give you some good quality 256k rips of their full-length albums. Their debut "The Weaning Day" is just that, a band in their infancy. It's still a good album and showed a ton of promise for things to come. Then onto my personal favorites "Home Grown" and "Budded", which are both skatepunk classics in my opinion. Their fourth album "Is this Glen?" is a bridge between their skatepunk roots and their movement toward pop-punk. Their last album "Matching the Profile" slows it down and is very much a pop-punk record. They also released splits with Satanic Surfers and Overflow as well as a collection titled "Some fourteen or so things Seven Hate never dared tell you".
A lot more Seven Hate can be downloaded at
http://hxcmelo90.blogspot.com/search/label/SEVEN%20HATE
Enjoy!
Seven Hate--The weaning day (1994)
http://www.mediafire.com/?lp5euufm0ilpdyw
Seven Hate--Home Grown (1996)
http://www.mediafire.com/?5gb2vizur3ccljr
Seven Hate--Budded (1997)
http://www.mediafire.com/?ujb9fc333arb4hz
Seven Hate--Is This Glen? (1999)
http://www.mediafire.com/?tzbs861v5w6k6q6
Seven Hate--Matching The Profile (2002)
http://www.mediafire.com/?ut82u348d2wnoff